NEWS from Chestnut Oak Farm
Gypsy Stallion Standing at Stud 2014 & 2015
Rosewater Cassidy "Sid" our famous Gypsy Vanner stallion is standing at stud for 2014/2015! He has sired many top notch Drum Horse foals by our fabulous quality Shire mares. He throws them big and they are winning in the show ring and stealing their owners hearts!
2014 Foals For Sale
We are offering two of our fantastic 2014 homebred Drum Horse foals FOR SALE both sired by Rosewater Cassidy "Sid".

1. Chestnut Oak's Luka, Sid x Zena, born 3/24/14, stunning black with perfect white markings, moves like a DREAM, sweet temperament, and TONS of hair and feather, easy to work with, should reach 16.2+hh, great dressage, hunter/jumper, driving, or pleasure prospect, loves attention.

2. Chestnut Oak's Sizzle, Sid x Dottie, born 4/11/14, gorgeous black and white tobiano, huge bone, will be TALL, easy going temperament, XX HAIRY, LOADED with hair and FEATHER, should reach 17+hh, very athletic animated movement, great dressage, jumping, driving, pleasure, and/or breeding prospect, will be your best friend.
Recommended Links


American Shire Horse Association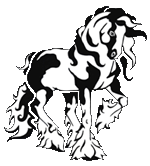 International Drum Horse Association